VALUE ADDED SERVICES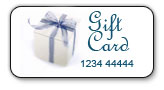 Gift Card Programs
A Gift Card solution enhances customer retention and increases sales through new customer generation and customer service. Designed for restaurants and retail markets with valued, new and repeat customers in mind, the Gift Card has enhanced features to ensure customer retention and rewards.

With the Gift Card, customers simply purchase a card which is activated by swiping it through a terminal. The card is then ready for use within seconds. When a customer makes a purchase, the sales associate simply swipes the card through the credit card terminal and the amount spent is deducted from the Gift Card.

By keeping the Gift Card similar to a credit card, customers have a product of comparison that they are comfortable with. When a Gift Card is drawn to a minimum balance, it can be "recharged" to an increased value, turning a one time user into a lifetime customer.
Fixed denomination: Merchant activates Card for the fixed amount printed on the card, Cards cannot be reactivated for more than the face value of the card.
Variable: Cards can be activated and recharged for an amount up to the maximum value of the card.
Single Activation: Card can only be activated once but can be redeemed multiple times.

Frequency &amp Loyalty Card Programs
Frequent Guest & Loyalty Program offers merchants the opportunity to maximize the lifetime value of their customers through retention and increased purchasing with rewards.

Simply swipe customer cards through a terminal and points are tracked instantly and recorded on their receipt. This allows you to easily recognize return customers. You are also able to leverage your own products and services as rewards through loyalty marketing - increasing the perceived reward value and your customer's satisfaction.

On-line registration or registration cards are used to gather customer information for demographic analysis and mailing lists. Customized surveys are also available.

A successful loyalty program must appeal to your customers, be cost effective to maintain and encourage customers to become members. The Frequent Guest & Loyalty program has multiple applications, allowing gift cards, debit, bonus points and instant rewards on a single card.
Instant Rewards: A pre-determined message is printed on receipts when customers reach a point level. A customer turns in a receipt to get the reward. The receipt is marked and filed with the cashier's drawer when turned in. No redemption is necessary. The receipt is used to redeem the reward. Ex. At every 500-point interval a receipt prints "1 free oil change". (Points do not start over but will print at each 500-point level).
Reward Redemption: Points are accumulated through the terminal and redeemed through the terminal. No messages are printed. Transaction points and accumulated points are printed on he receipt. The merchant provides a variety of rewards at different point levels to be redeemed. Ex. 50 points-Free ice cream, 1 points free banana split.
Multiple Point Rewards: Pre-determined reward messages are printed on customer receipts at variable point levels. 5 levels may be assigned. Ex. 50-points, "10% off Hair Cut", 100-points, "15% off Curl-N-Set", and 250-points, "25% off Color or Perm". Points are redeemed through the terminal when the customer wants a reward.
Check Guarantee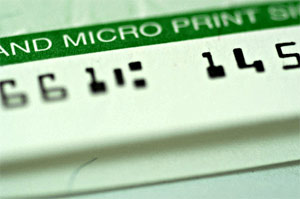 Successful merchants offer the greatest variety of customer payment options. One of the most frequently requested is payment by check. Checks have always been an expensive payment method. Merchants are required to fill out deposit slips, make trips to the bank, collect bad checks and suffer the loss if the check is uncollectable. Recently the banking system changed the rules that applied to how checks could be processed. These rule changes allowed checks to be converted into debit items at the point of sale. The local branch of the bank is now on the merchants counter top rather than on the street corner. With specialized POS equipment, check information is transmitted to a host computer and then the actual check is given back to the check writer. These simple changes have revolutionized the way checks are handled.

The successful merchant is not only interested in checks clearing but also in the ease of acceptance at the Point of Sale. The Check Guarantee program is virtually transparent to both the consumer and the sales clerk. Since the terminal does not request basic information usually found on pre-printed checks, ID requirements are minimal, resulting in speedier check out times and improved customer service.

Using both a Driver's License number (or state ID) and a checking account number, a check presented for approval is electronically transmitted to our files which function much like a credit bureau, to collect and disseminate information about abused checking accounts.

Declines only occur as a result of negative information on file. Merchants refer declined check writers to a customer service representative who is experienced at handling that type of inquiry with tact and diplomacy.

In the event the check is returned by the bank, the merchant will never know that is was dishonored. Once an approval is obtained from our host, the merchant is guaranteed the funds will be in their account in about 48 hours.

Within seconds our system will approve or decline a check. If we approve it and the check is returned, the merchant will remain 100% funded with no interruption in cash flow.


ACH

Direct Payment
Love steady income, but hate the hassles of monthly billing and check reconciliation? Lose the headaches and expenses associated with collecting recurring monthly fees while maintaining control over your customers, information and money. With your customer's pre-authorization, we automatically debits their bank account. It's an easy, fast, convenient way to collect recurring bills such as mortgages, loans, utilities, investments, memberships, premiums, and charitable contributions.

Direct Deposit
Employees can't wait for payday. But do you dread having to write all those checks and, too often, re-issue them when they're lost or stolen? Is expense reimbursement a headache waiting to happen?

Direct deposit has major benefits

Thanks to instant access to cash, convenience and more time, it's no wonder 7 1% of employees have direct deposit. Today's job candidates have come to expect it. But they're not the only ones who benefit. It offers significant advantages for you too:
Saves you money: Puts a stop to issuing and re-issuing checks, as well as stop payment fees.
Reduces your risk: No need to worry about the more than four million paychecks lost or stolen each year, or the 2,000 fraudulent checks cashed every day.
Saves you time: What would you do with all that extra time if you had only one entry on your statement to reconcile? We're sure you'd think of something.
Improves employee satisfaction: Attract and keep valuable employees by providing a benefit rated as important as a 401K.
Increases productivity: According to NACHA, companies could increase productivity by $3-5 billion if all Americans used direct deposit. Even a small piece of that pie is mighty appetizing.

NSF Check Re-presentment
Tired of spending your time and money chasing bad checks? Not Sufficient Funds (NSF) returned checks are labor intensive and costly for you and your customers.

It's time you cashed in on out electronic recovery solution.

Check out the facts:
U.S. consumers write more than 1.2 million bad checks every day.
The cost of processing a paper check is 150% higher than for an electronic transaction.
Setting up debit schedules that are in synch with your customer's pay date can increase recovery from 50-96%.
Look beyond face value

Evaluating check recovery partners boils down to one simple question. Who keeps the NSF fee? You want a program that's easy to understand and implement, plus a partner with a proven track record.

Prepaid Solution

PREPAID MASTERCARD® CARD
The only INSTANT ISSUE MasterCard® Card available in America and recommended by MasterCard® International. Prepaid has excellent retail margins including follow-me revenue.
Increase Foot Traffic
Increase Average Sale
Create On-Going Revenue Stream

PREPAID WIRELESS RECHARGE
We offers a wide variety of National and Regional carriers to provide you and your retail locations with highest quality of service. With direct contracts with the major carriers, you can depend on Everything Prepaid to have PIN availability when you need it! We offer prepaid wireless form the following carriers:
AT&T Wireless
T-Mobile
Cingular Wireless
Verizon Wireless
Tracfone
Alltel
Boost Mobile
I-Wireless
Hargray

PREPAID LONG DISTANCE
By offering a solution for Prepaid Long Distance you have no live inventory to manage. At COCARD, we offer the most competitive rates in the industry in domestic or international use. All of our cards are backed by top carriers, so you don't have to worry about the minutes delivered matches the posted rates.
Clean Call
Penny Call
Amigo Especial
Global Direct
De Volada
Gold Series
ID Verification
You can collect the customer's name, address, driver's license number, date of birth and personal description. (Only where permitted)
Cut down on the time it takes to enter your customer's data.
Automatically create an accurate database of your customer's
Help you to create a mailing list.
Displays the customer's name and age on screen
Provides full batch reports
Provides shift reports
Provides head count

Web Site Development
We are pleased to offer professional web site design and hosting solutions for informational as well as commerce based web sites. Contact us about web site design and/or about any of our processing/value added services.